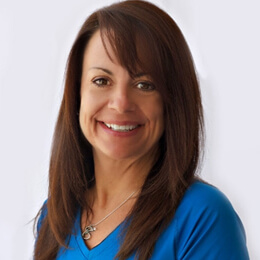 Jan Black PT, MSPT
Jan cofounded Neuroworx in June 2004 and serves as the Clinic Director. She is responsible for overseeing all clinical activities, staff training, scheduling, and the clinic's teaching responsibilities. She frequently provides input on patient care issues and continues to see a few patients as her schedule permits. She also helps oversee and coordinate the Neuroworx Clinical Research Program.
She graduated from Utah State University in 1989 with a Bachelor's of Science in physical education. This was followed by a Master's of Science degree in Physical Therapy from the University of the Pacific in 1991. After graduation, she returned to Utah and began a career as a practicing clinical physical therapist. The majority of her practice has been focused on individuals with spinal-cord injuries and similar neurological conditions. She has worked in acute-care inpatient rehabilitation, home health care, and the outpatient setting.
Her postgraduate training has included courses in spinal-cord injury, brain injury, and locomotor training. She is a Certified Clinical Instructor Affiliate (CCCE/CI) through the American Physical Therapy Association and an educator for the University of Utah Physical Therapy Doctoral Program and Rocky Mountain University Physical Therapy Doctoral Program. She is a member of the American Physical Therapy Association, including the Neurological and Education sections. Aquatic therapy has been an important part of patient care throughout Jan's career. In 2002, she began a more advanced form of aquatic therapy using highly specialized pools. Applying her clinical experience with this novel equipment allowed her to provide innovative and very effective care for people with paralysis. Her unique expertise in this area has provided her with opportunities to present aquatic seminars with a neurological focus to various clinics throughout the country. In 2004, she co-founded Neuroworx, as a non-profit, state-of-the-art outpatient physical therapy clinic specializing in the treatment of people with spinal-cord injuries, which has now expanded to include individuals with brain injuries, stroke, cerebral palsy, and similar neurological conditions. In addition to her duties as the Clinic Director, she is Vice President of the Neuroworx 501(c)(3) organization and a member of its Board of Directors.
Jan's research activities have included a collaborative project with the University of Utah Department of Mechanical Engineering and Computer Science using a virtual reality, mechanically augmented treadmill. She was also the co-investigator with the University of Utah Department of Physical Medicine and Rehabilitation in a pilot study that evaluated the safety and efficacy of aquatic treadmill therapy for improving the economy of gait, gait speed, balance, cardiovascular fitness, and quality of life in ambulatory adult stroke patients.
Jan assisted with the creation, drafting, and eventual passage of House Bill 400 during the 2012 Utah Legislative Session. This bill created a spinal-cord and brain-injury fund to provide rehabilitative services to affected people in Utah. Her hobbies include cycling and, most importantly, being a mom. Jan and her husband have three children.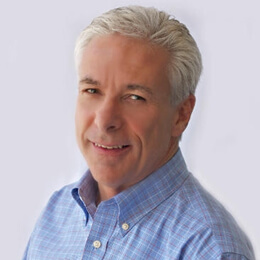 Dale Hull MD, MPA
Dale is the cofounder and Executive Director of Neuroworx. He graduated from the University of Utah School of Medicine in 1985. Following graduation, he completed a residency in obstetrics and gynecology at the University of Utah Medical Center. He practiced general obstetrics and gynecology for ten years in the south portion of the Salt Lake metropolitan area.
In 1999, he suffered a spinal-cord injury that resulted in paralysis from the neck down. This life-altering event, which prevented him from returning to active practice, required Dr. Hull to devote approximately three years to his rehabilitation. His physical therapist during the majority of this time was Jan Black. He was fortunate to have an early return of neurological function. With hard work and Jan's expert guidance, he was able to take advantage of that return to make significant gains in functional ability.
Dale and Jan realized there was an unmet need to provide others with access to the extraordinary rehabilitation he had experienced. He joined his therapist in forming a non-profit organization and opening Neuroworx in 2004.
During 2002, Dale had the opportunity to be an Olympic torchbearer for the Salt Lake Winter Olympics. In 2009, he completed an underwater marathon in the Neuroworx pool to commemorate the ten-year mark of his injury. He returned to school and in 2012, completed a Master's of Public Administration degree from the Romney Institute of BYU. Dr. Hull is married and has four sons.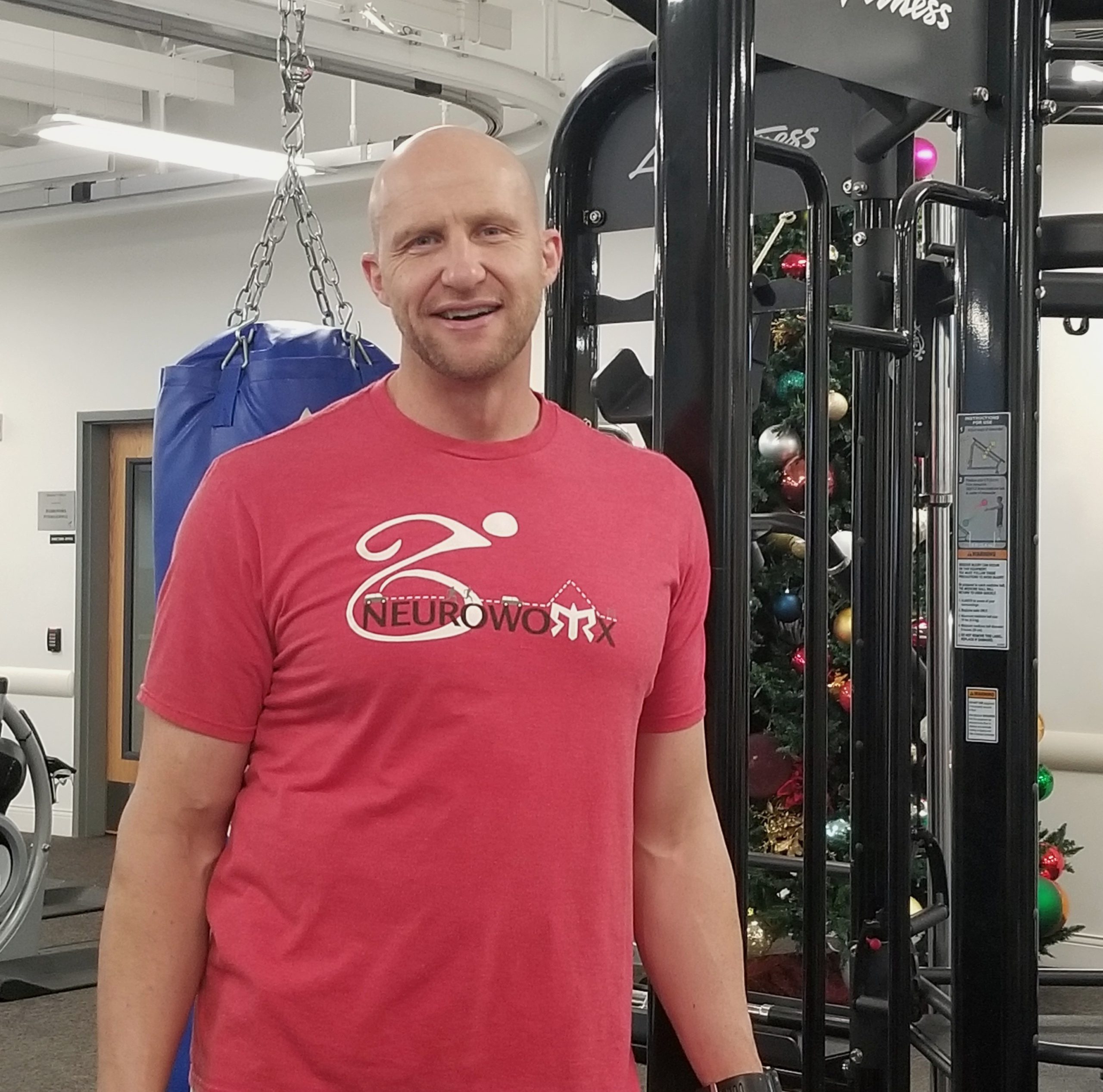 Matthew Hansen PT, DPT
Matt graduated from the University of Utah in 2005 with a Doctorate of Physical Therapy degree. He served as one of the first student interns for Neuroworx and after graduation, accepted a full-time physical therapy position. He currently serves as Lead Therapist.
Matt is a licensed massage technician and has extensive training and clinical experience in the areas of neurorehab, orthopedics, acute care, and manual therapy of the spine. He has completed advanced training in myofascial release and kinesio taping techniques. He is a certified clinical instructor through the American Physical Therapy Association. His hobbies include playing basketball, water skiing, being outdoors, lifting weights, and taking care of his family. Matt's wife experienced a traumatic spinal-cord injury following a gunshot wound in 1992. This contributed to his motivation for a career in physical therapy and spinal-cord-injury rehabilitation.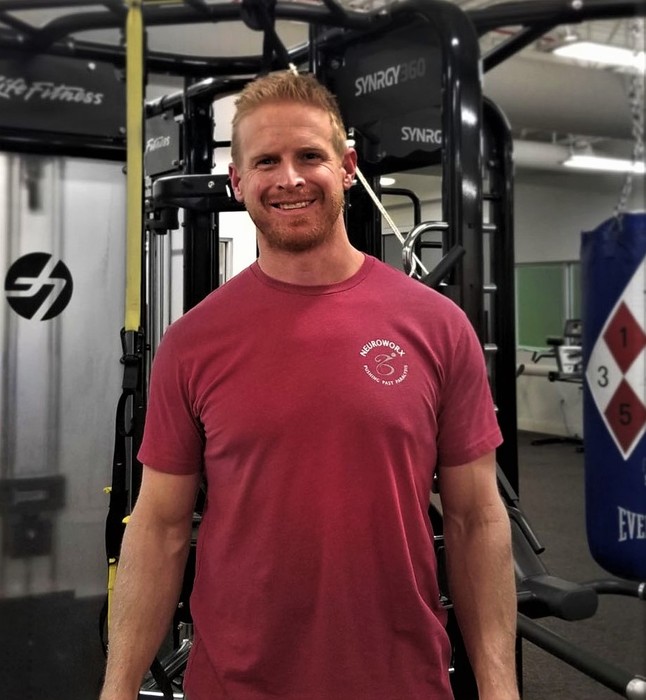 Matthew Carter PT, DPT
Matt attended the University of North Florida in Jacksonville, originally as a business management major. However, he decided to make a career change and work toward helping others with paralysis rehabilitation after experiencing his own spinal cord injury in July 2007.
He graduated with a Doctorate of Physical Therapy from the University of Florida (Go Gatas!), during which he completed a clinical rotation at Neuroworx. Immediately after graduation, he accepted a position at Neuroworx and moved to Salt Lake City in 2014.
Matt and his wife enjoy all the outdoor activities Utah has to offer including camping, skiing, hiking, and mountain biking.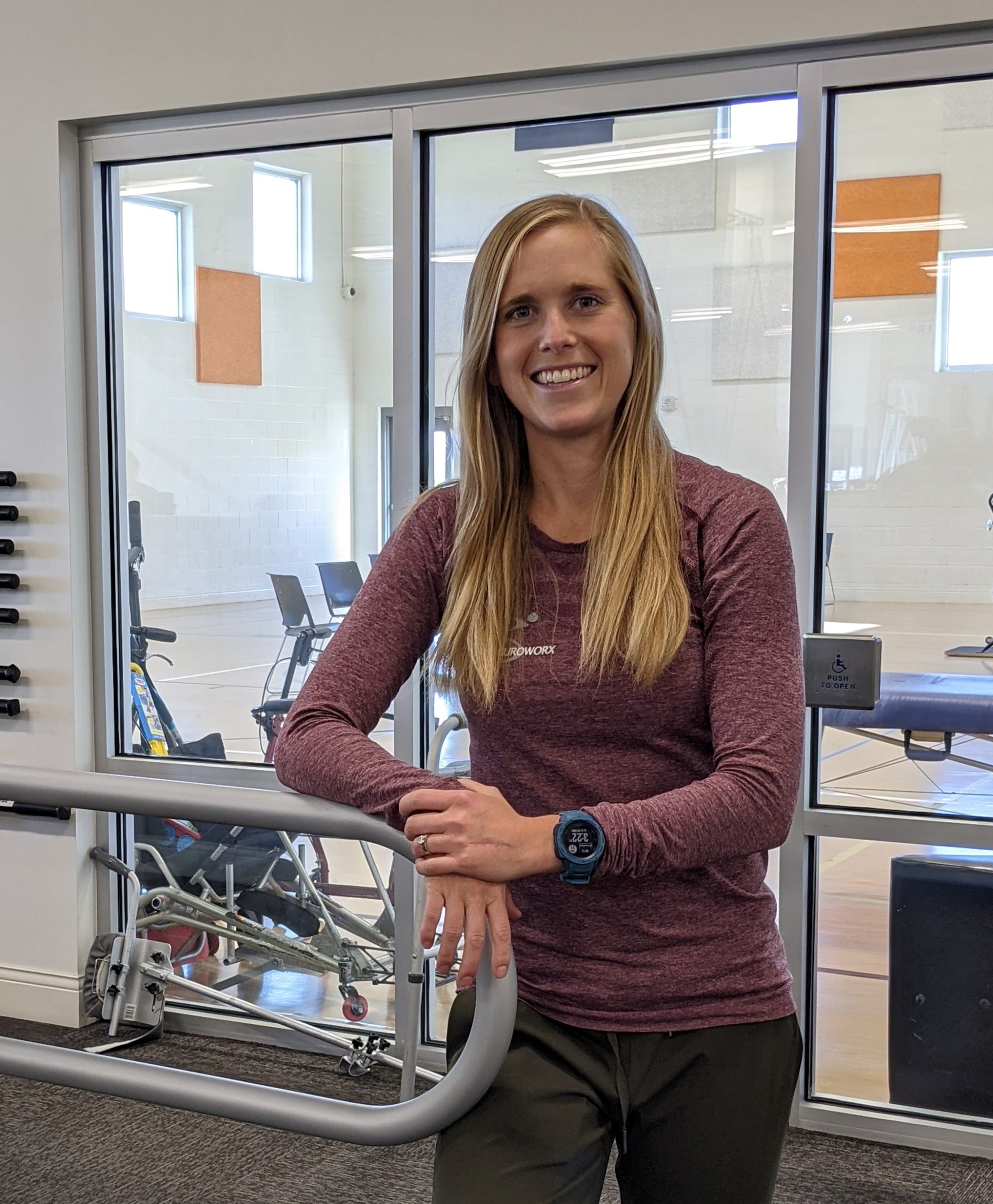 Marissa Moran PT, DPT
A native of Sandy, Utah, Marissa attended Utah State University where she ran for the Aggie cross country and track team, excelling in the steeple chase. Her interest in physical therapy was confirmed after a volunteer experience in a Logan, Utah clinic.
Marissa completed her Doctorate of Physical Therapy degree in 2015 from the University of Utah. As a student she helped found the student-run Midvale Community Clinic and worked in the Stroke Wellness Center. Her first professional job was a Salem, Oregon neurological clinic focusing on neuro-degenerative conditions, brain injuries, and vestibular disorders. She returned to Utah in 2018 and continued work at a northern Utah neuro-rehab clinic as well as participating in concussion research at the University of Utah. She has received certifications in stroke rehabilitation and vestibular disorder rehabilitation. Marissa joined Neuroworx in Oct. of 2018.
She and her husband are avid participants in all of the Utah outdoor activities.
Ashlyn Rittmanic PT, DPT
Ashlyn grew up in Boulder, Colorado then moved to Utah in 2011 to attend Brigham Young University graduating with a Bachelor Science in exercise science. She earned her Doctorate in Physical Therapy from Rocky Mountain University of Health Professions in 2018. After completing her final clinical rotation at Neuroworx, she accepted a full-time position providing neurological rehabilitation for both adults and children. She is passionate and dedicated to helping individuals recover as much functional ability as possible.
In her free time, Ashlyn enjoys spending time with her family and husband. She also loves watching Friends and football, spending time outdoors, working out, and traveling.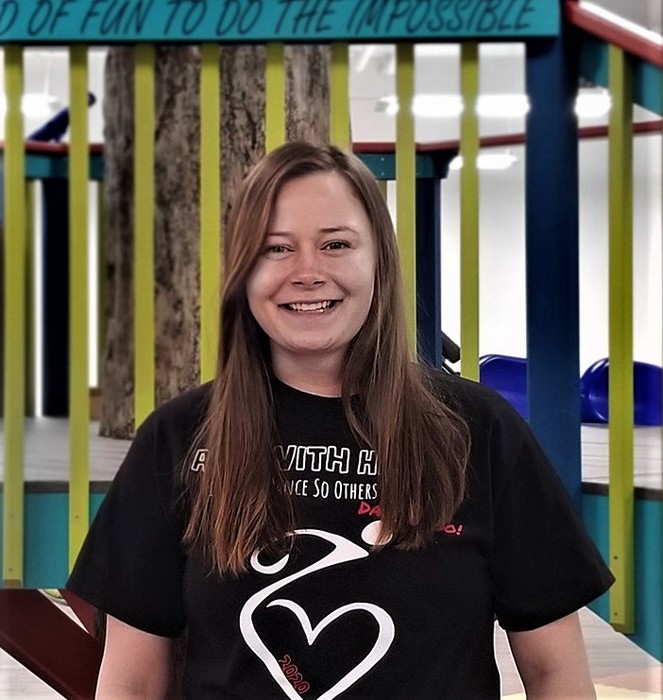 Nicole Pasdera PT, DPT
Nicole began her physical therapy career by working as a PT aide in Roseville, California while obtaining a Bachelor of Science degree in biology from William Jessop University. Her next stop was the University of the Pacific for a Doctorate of Physical Therapy degree finishing in 2019. One of her last clinical clerkships was with the Neuroworx pediatrics program. Her performance made her a front-runner when Neuroworx needed a clinician for the pediatric program. She started full-time in January of 2020.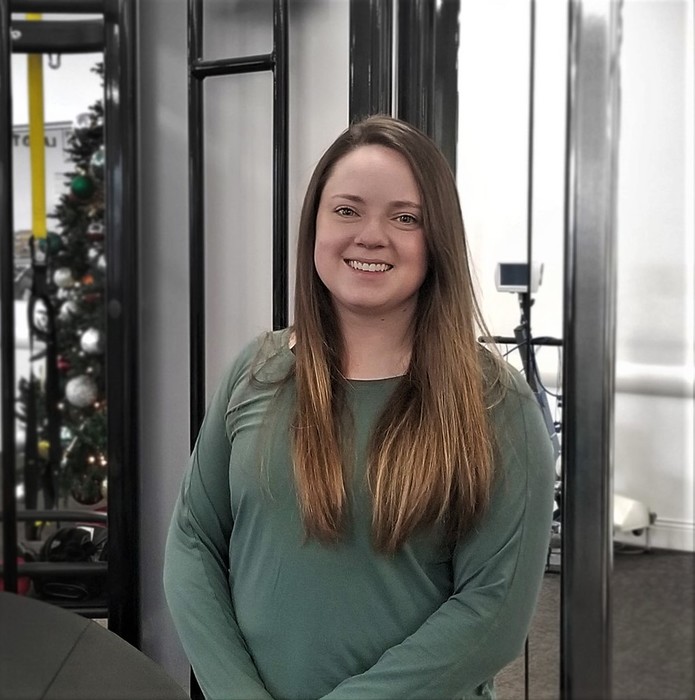 Emma Buckley PT, DPT
Emma grew up in Vermont and received her degree in Athletic Training from the University of Vermont in 2015. After working as a high school athletic trainer for three years, she moved to Utah to pursue her Doctor of Physical Therapy degree from Rocky Mountain University of Health Professions. Emma completed a six month student internship at Neuroworx, and joined the Neurorworx staff as a full-time physical therapist in December 2020. She is looking forward to integrating her background in the rehabilitation of high school and collegiate athletes, as well as her experience in orthopedics and acute care settings, into her care of patients at Neuroworx.
When she is not in the clinic, Emma is likely to be found exploring Utah with her two large dogs, as well as skiing, playing soccer, and traveling with her family.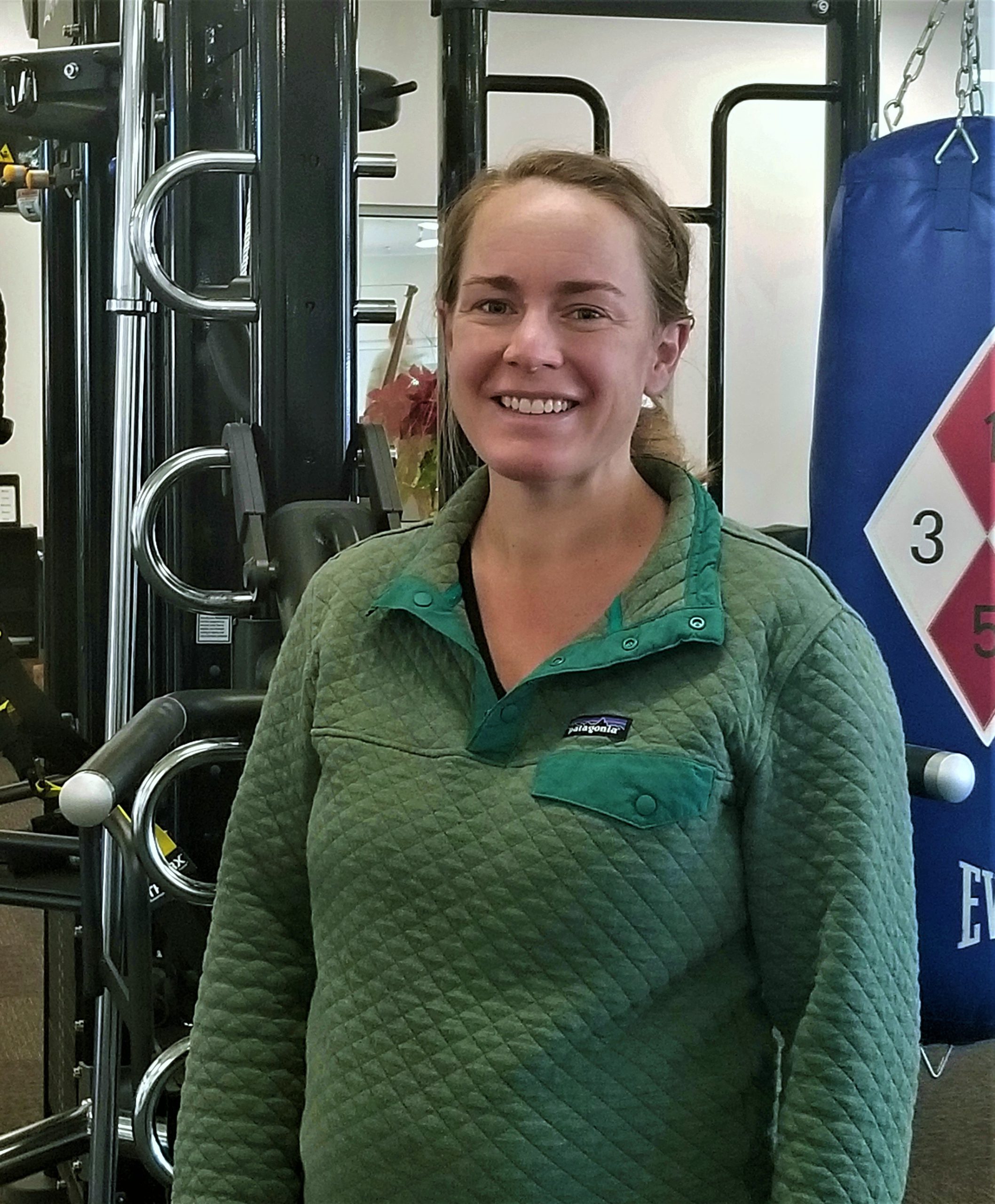 Katherine Jane Stam PT, DPT
Katie has been a part of the Neuroworx pediatric program since June of 2017. She is a 2012 graduate of the University of Utah Doctorate of Physical Therapy program. Prior to joining Neuroworx, Katie worked as a physical therapist at Primary Children's Hospital in Salt Lake City.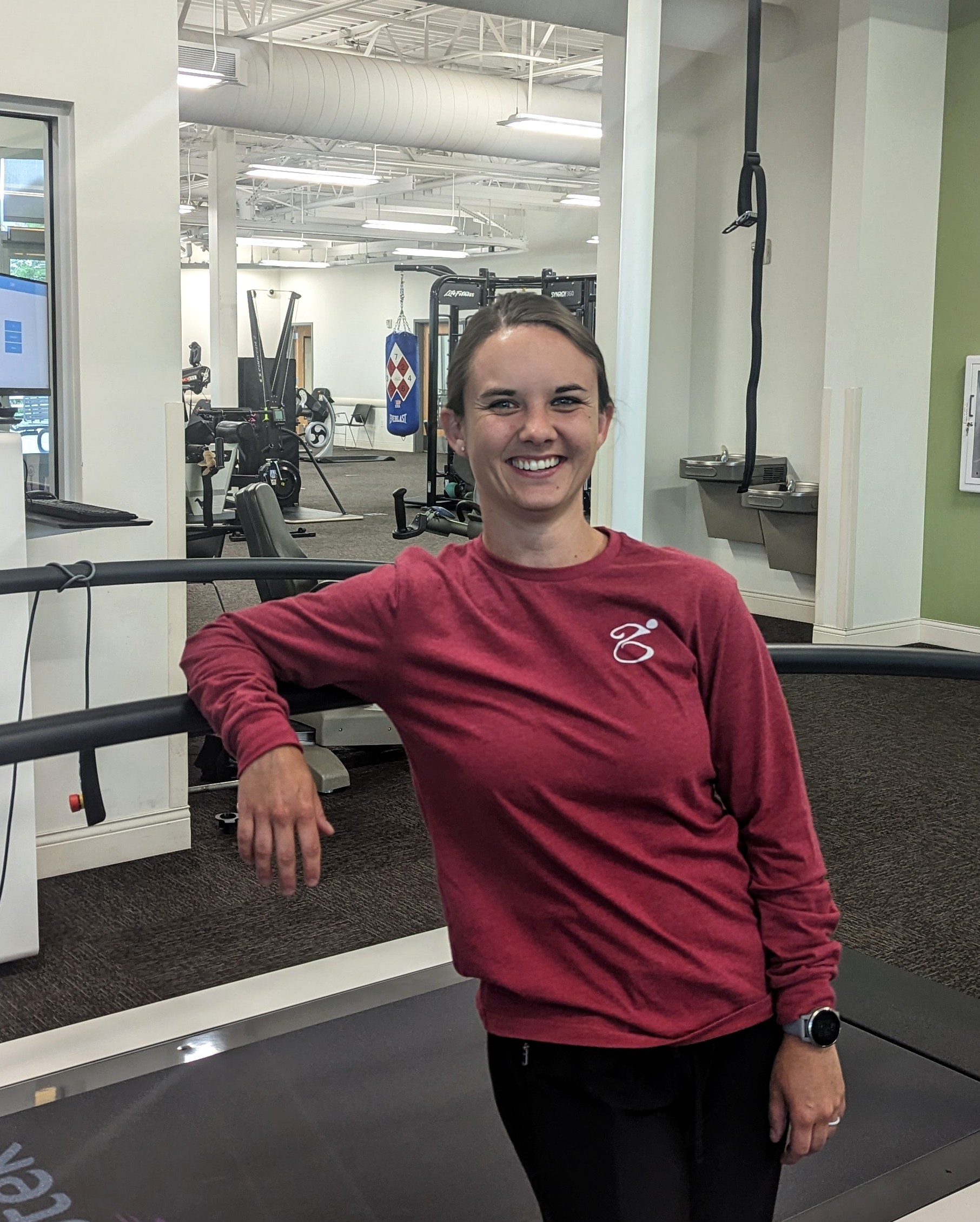 Christi Williams PT, DPT
Christi grew up in North Carolina prior to attending Auburn University for her undergraduate degree. After time off spent guiding mountain biking and rock climbing trips as well as working at a PT clinic, she returned to Western Carolina University to complete her Doctor of Physical Therapy degree. Following PT school, she and her husband and dog moved out to Utah. Christi has previous experience in neuro acute care and inpatient rehab and is looking forward to utilizing some of her hospital based skills in the outpatient setting.
In her free time, Christi likes to mountain bike, rock climb, take her dog swimming, and ski. Christi can also be found selling her handmade pottery at local markets on occasion.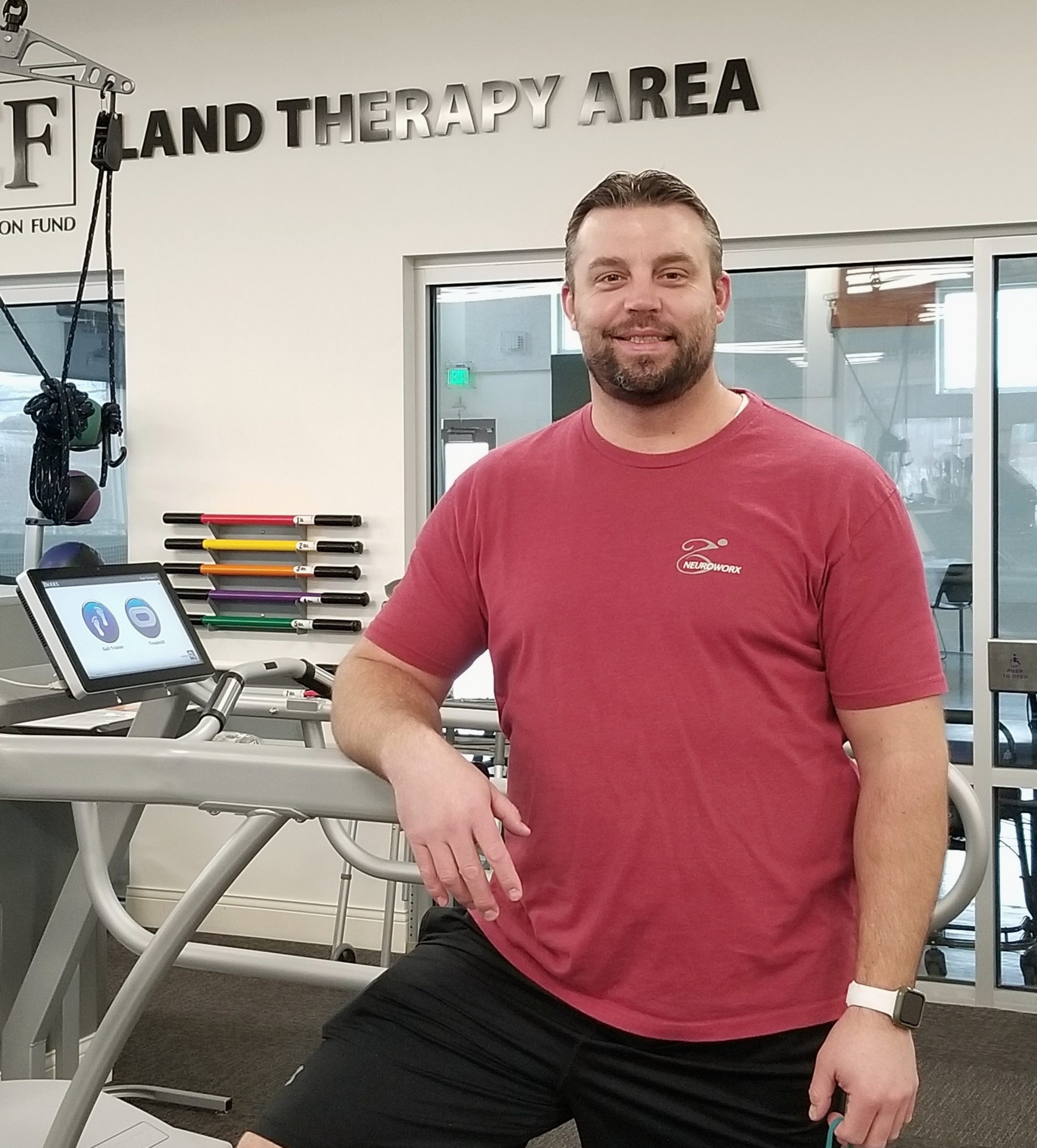 Michael Erickson PTA
Mike has been a part of Neuroworx almost from the beginning as he began working as PT aide and massage therapist in September 2004. Eventually seeking additional schooling, he graduated as a Physical Therapist Assistant (PTA) from Salt Lake Community College and began working for Neuroworx in that role in February 2013.
He started and supervises a monthly free massage program for Neuroworx patents and their family members. This is a partnership with a local massage therapy school. Mike provides education and direction to the massage therapy students about the factors associated with paralysis and their proper management during a massage encounter. This includes recognizing the need for safe transfers, proper positioning, and awareness of sensory deficits. This has been a very beneficial for the students as well as those receiving therapeutic massage.
Mike and his wife have two children and he enjoys the role of "Daddy." Aside from spending time with his family, he enjoys playing games and being outdoors, specifically camping and hiking. Mike loves playing soccer and participating in other sports. He feels very blessed to be a part of Neuroworx and to have the chance to help patients move toward their goals.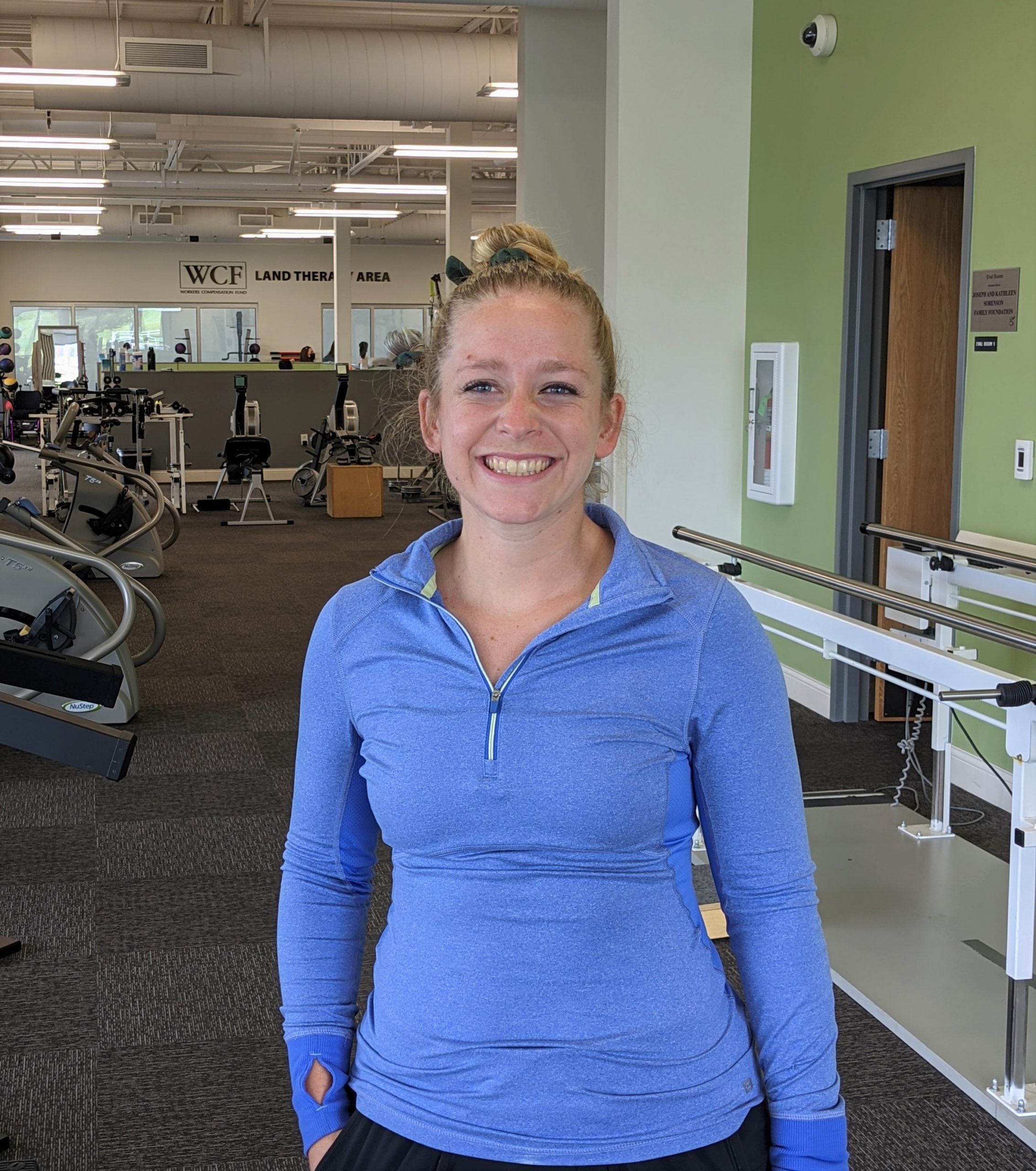 Paige Handley MOT, OTR/L
Paige attended the University of Southern California for her undergraduate degree in Health Promotion and Disease Prevention graduating in 2016 and attended the University of Utah for her Master's in Occupational Therapy graduating in 2019. Paige joined the Neuroworx team in May 2021 after working in other neuro settings as an occupational therapist.
Paige and her husband have 2 dogs and Paige loves to hike, run, and go backpacking with her family. Paige loves to play sports, run and bike and enjoys being outdoors. She grew up playing soccer, ran cross country, and played club rugby in college.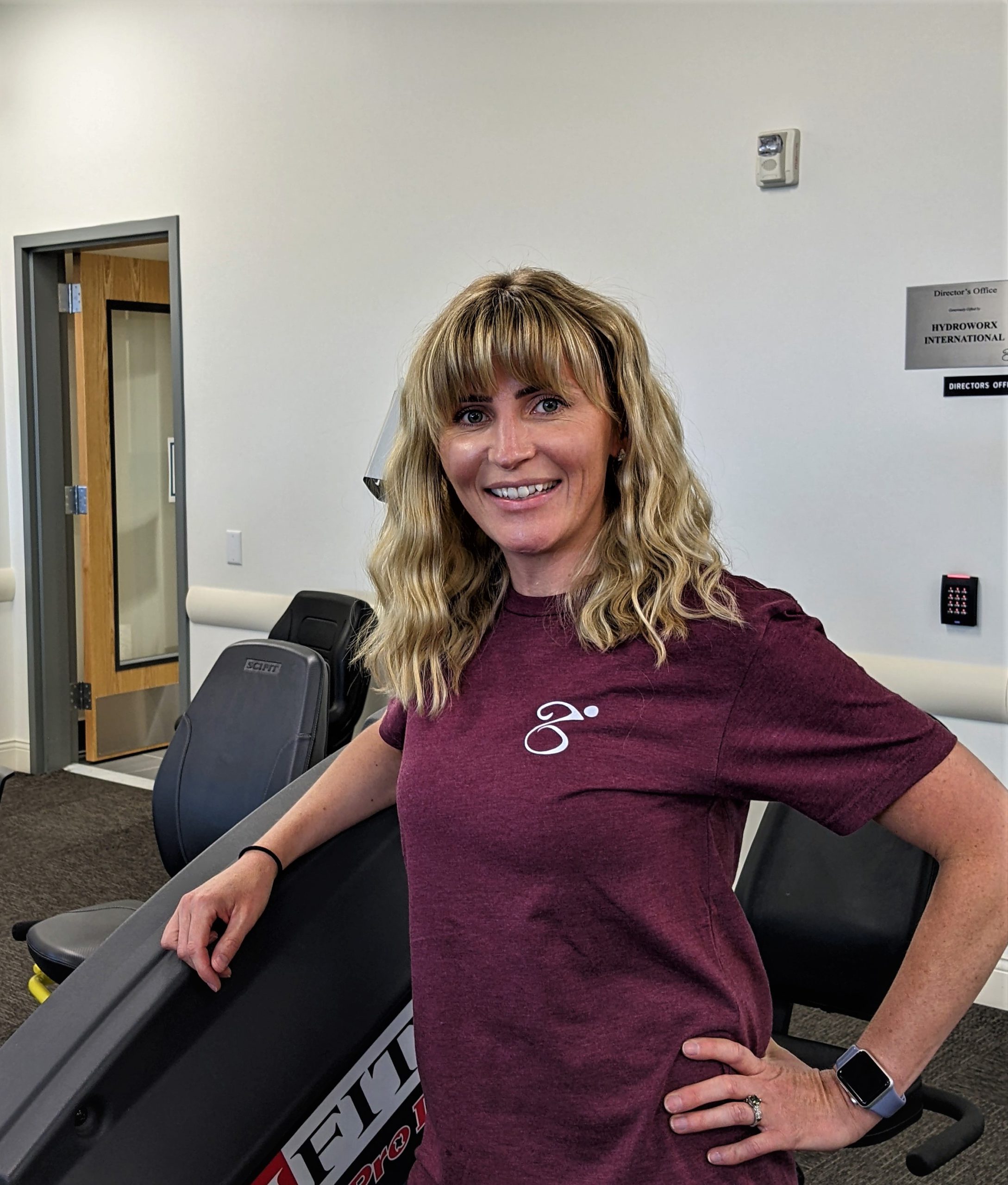 Vanessa Holmes MOT, OTR/L
Vanessa is an occupational therapist at Neuroworx. She specializes in treating individuals with neurological disorders such as stroke, traumatic brain injury, and concussion. She has experience in Hospital Acute care, Inpatient Rehab, Outpatient Rehab and industrial ergonomics. Vanessa graduated from the University of Utah in 2008 with her BS degree in Parks, Recreation, and Tourism and graduated from Midwestern University in 2016 with a Master's degree in Occupational Therapy. She is a Utah native and enjoys exploring Utah with her toddlers, traveling, and snowboarding.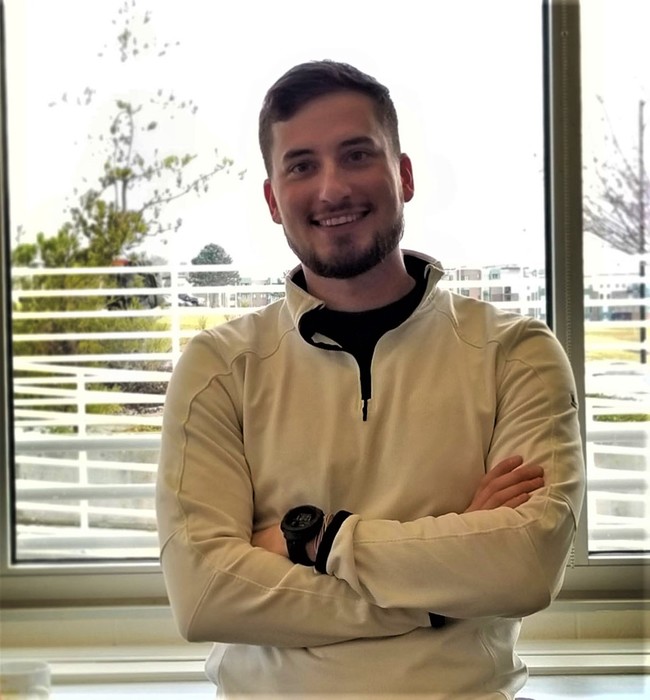 Kyle Byrnes OTD, OTR/L
Kyle graduated from Arkansas State University with a Bachelor of Science in Athletic Training in 2016 and Doctorate in Occupational Therapy in 2019. During his final year in occupational therapy school, Kyle spent three months at Neuroworx completing his doctoral capstone which explored the importance of promoting neuroplasticity in adolescent spinal cord injuries. After graduation, he packed up and moved to Utah with his wife, Hope, and dog, Kina, to support the vision of Neuroworx. He works as the Research Administrator for the Neuroworx Clinical Research Program.
In his free time, he can be found exploring new places, bouncing between hobbies, or growing out a mustache like Aaron Rodgers for the Green Bay Packer's season.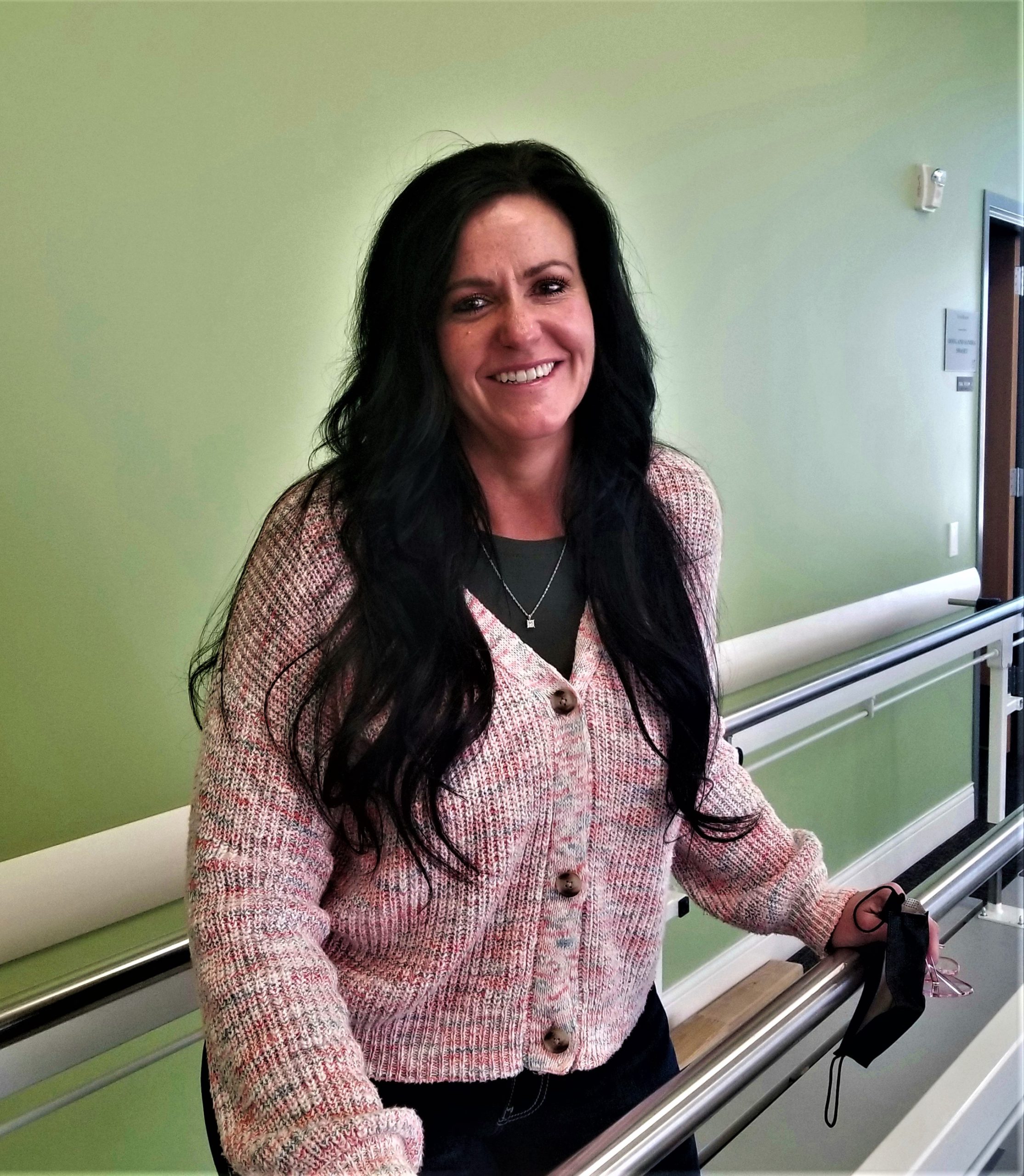 Amy Wagstaff
Amy is a Certified Professional Coder and Billing Specialist. She began her coding/billing career in healthcare in 1997 and has worked for both inpatient and outpatient medical providers. She has taken numerous continuing education proficiency and enhancement courses.
She first was introduced to Neuroworx in 2010 after her daughter experienced a spinal cord injury and used the facility for after-hospital rehabilitation. The clinic was fortunate to make Amy part of the Neuroworx mission in August of 2019. Amy loves spending time with her kids and family and watching Marlee excel in wheelchair basketball.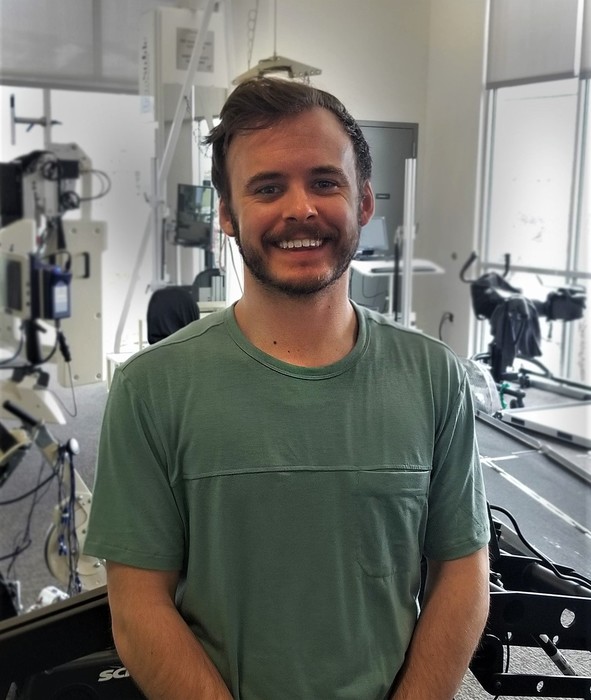 Casey Black
Casey serves as the Neuroworx Operations Coordinator, which includes multiple duties. He began his employment in May of 2015 as a part time therapy aide. He accepted a full-time position in 2018 after completing his Bachelor's of Science in psychology. Casey can often be seen fixing equipment around the clinic and running Neuroworx's patient programs, including arts and group fitness.
He is from Salt Lake City and been actively engaged in the world of adaptive sports, such as wheelchair basketball and wheelchair rugby. He became a certified wheelchair rugby referee at age 14, the youngest individual in the U.S. to receive that status. Some of his favorite things include Red Sox baseball, Real Salt Lake soccer, woodwork, and a nice cup of coffee.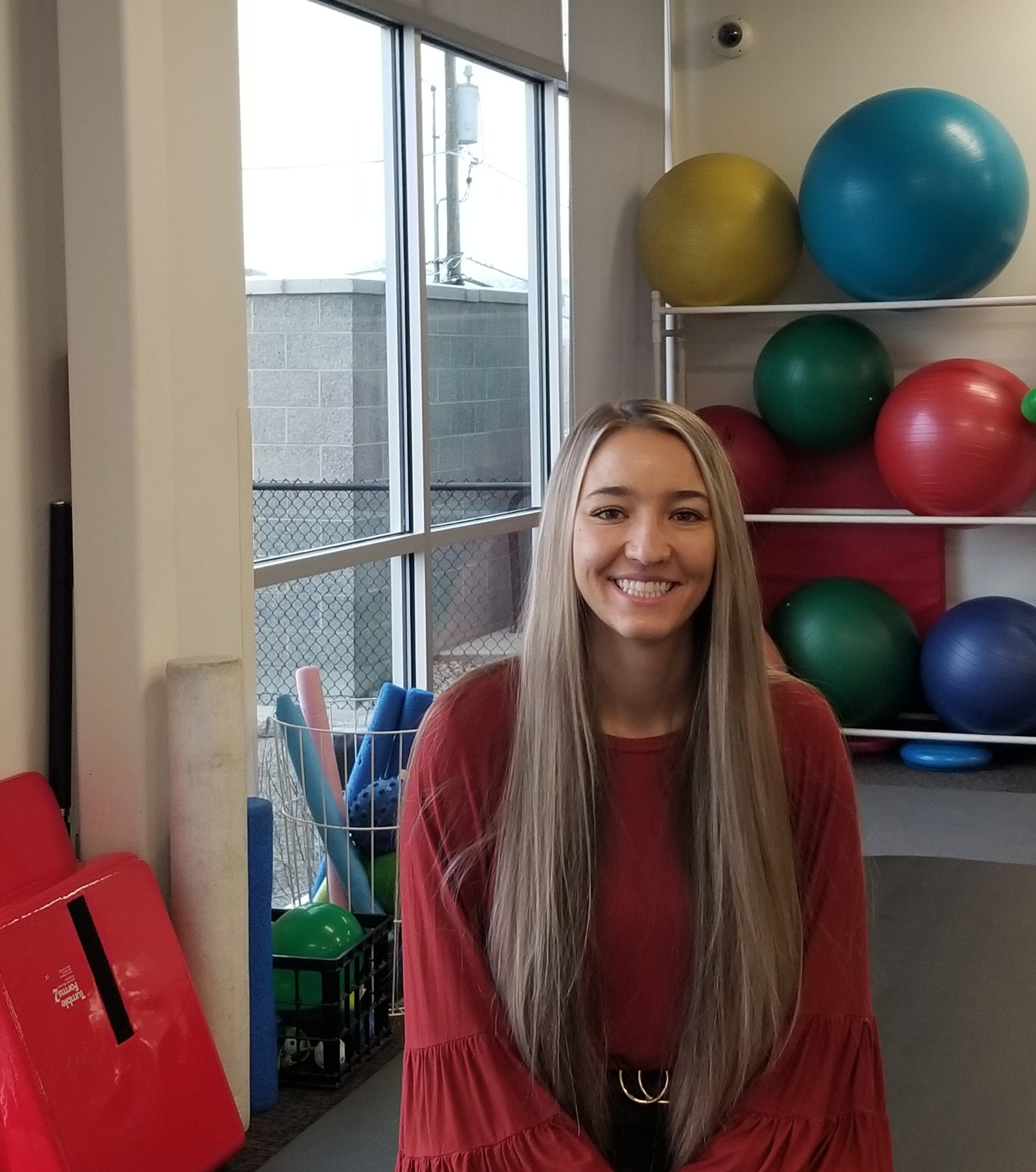 Kolette Olsen
Kolette is the Executive Coordinator at Neuroworx. She has been with Neuroworx since July 2017 and has worked in healthcare since 2014. She completed her Associate's Degree at Salt Lake Community College in May 2018. Along with spending time with her husband and family, Kolette loves a nice warm day on the lake. She also enjoys all water sports, watching The Bachelor, and cheering on the Philadelphia Eagles!
Support Staff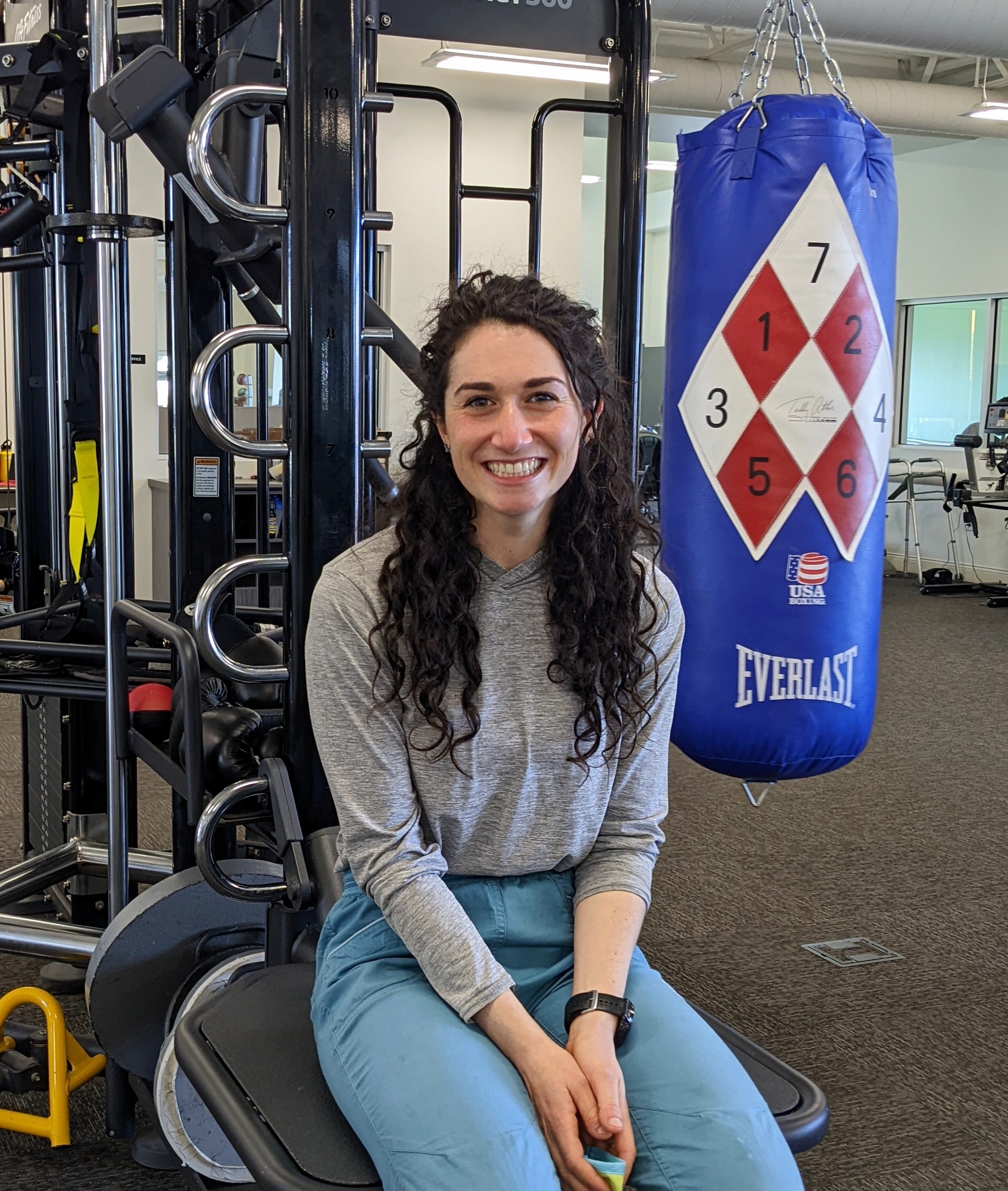 Maya Stoller
Maya grew up in Vermont and received her Bachelor of Arts in Psychology from Macalester College. In her quest to decide on a career path, Maya has received her birthing doula certification, and worked in a variety of jobs such as Parkinson's research, childcare and wilderness therapy. Maya joined the Neuroworx team as a PT aide in November 2021 and plans to apply for a doctorate of physical therapy program soon.
Maya enjoys waking up early to a nice cup of coffee and spending her free time outdoors, particularly running and rock climbing.