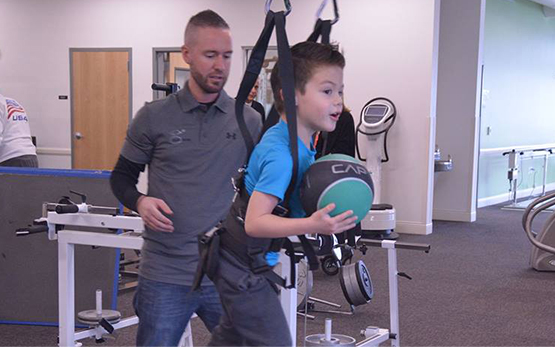 You Can Help
Your donation will assist the Neuroworx mission of providing extraordinary activity-based therapy and rehabilitation to adults and children experiencing paralysis from spinal cord injuries, brain injuries, stroke, cerebral palsy and similar neurological conditions while eliminating the financial barriers to progress.
Neuroworx is a 501 (c) 3 non-profit charity.TIN#20-0291769. Qualified donations are tax-deductible .
Jan and Dale's Discretionary Fund
A general fund for patient care needs.
Noah's Ark Rainy Day Fund
Financial assistance for pediatric patients.
Adaptive Sports Program
Supports individual and team adaptive sports opportunities.
Support of Disability Program
Ms Wheelchair Utah and the Princess Pageant and other special events and initiatives.
Give While Shopping
Here are two easy ways to help Neuroworx every time you do your personal shopping. It only requires a one-time easy sign up and then it takes care of itself. You shop as usual AND contribute to the Neuroworx mission. Perfect!
AmazonSmile Program
It's a simple and automatic way for you to support NEUROWORX every time you shop, at no cost to you.
Smith's Community Rewards Program
Use the Smith's Rewards card/ID every time you shop at Smith's and you'll earn your personal rewards AND Smith's will make a donation to Neuroworx.
Stock
Donate appreciated stock held for more than one year and avoid a capital gains tax. Consider choosing appreciated stock with the greatest capital gain to take maximum advantage of this unique tax beneift. Sell stock that has lost value and donate the proceeds. You can deduct the loss in value (cost basis less current value) and derive an income tax charitable deduction for the current market value. We recommend consulting with your investment advisor or tax professional for questions. Contact info@neuroworx.org or call Dale at 801-619-3670 for additional information.
Named Endowment Fund
Substantial gifts can be considered for a named endowment. You specify the program and how you would like it named. This may be done as a memorial or to honor someone.
Insurance
Donate an insurance policy that you no longer find useful and receive a charitable deduction for the cash value of the policy.
Matching Gift
Some companies have matching-gift programs for charitable donations. Enclose the company form with your contribution.
THANK YOU FOR YOU GENEROSITY!